New Directions in the Study of American Independent Cinema is a one-day symposium organised by the Department of Communication and Media at the University of Liverpool being held on the 12/12/2011.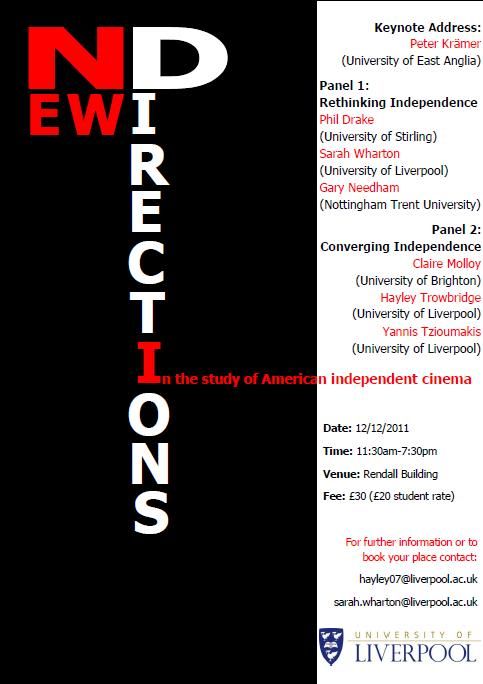 Date: 12/12/2011

Time: 11:30am – 7:30pm

Venue: The Rendall Building, University of Liverpool

Fee: £30 (£20 student rate)

Keynote Address:

"The Politics of Independence: Jane Fonda, The China Syndrome (1979) and Anti-Nuclear Campaigning" - Peter Krämer (University of East Anglia)

Panel 1 – Re-thinking Independence:

"Contesting Independence: Hal Ashby, Creative Conflict and Negotiated Authorship" – Phil Drake (University of Stirling)

"From Independent to Specialty: House of the Devil (Ti West, 2009), the Grind-House Aesthetic and the Niche Horror Film" – Sarah Wharton (University of Liverpool)

"New Line Cinema, Old Queer Cinema: Problems in the Periodisation of Contemporary American Independent Film" – Gary Needham (Nottingham Trent University)

Panel 2 – Converging Independence:

"'Greening' American Independent Cinema" – Claire Molloy (University of Brighton)

"The impact of media convergence on the distribution of American independent cinema: A case study of The Darjeeling Limited (2007, Anderson) and Hotel Chevalier (2007, Anderson)" – Hayley Trowbridge (University of Liverpool)

"American Independent Cinema in the Age of Convergence" – Yannis Tzioumakis (University of Liverpool)

Further Information:

For more information on the conference including booking details, check out the official website.

We are also on Facebook and Twitter so please like and follow us for updates!
notthattypeofdoctor said:

Thanks for sharing this! It is actually very relevant to my research, so I might try and fly over for it. Are you doing your PhD at U of L? :)

notthattypeofdoctor likes this
cupcakesandhorror posted this